12
The reality of entrepreneurship is there's alot to learn.  Unfortunately, there's a huge monopoly on the perceived need of expensive business education.  With the internet, I guarantee the bubble that causes people to go into hundreds of thousands of dollars into debt buying overpriced courses will burst, and this article on the best free online business classes is one of my contributions to bursting "the education bubble".
Regardless of the stage of your business, you should always be learning.  It's a habit that will continually escalate you from one escelon of success into the next.  Unfortunately, many of the classes can be very expensive, so access to the information can be limited or difficult.
My Story
I come from a modest background.  I was Active Duty in the military until 2015.  I have two children who I am raising as I'm starting my business (which feels like another baby), and we live on a middle class income.  Each "baby" needs nurturing and funding.  As you're growing a business, there are expenses that seem to escalate as you perceive more and more needs.  Sometimes, I just want people who I can learn from who don't seem like they're out to "get something".  It can feel like you're being chased by sharks sometimes when you're trying to make a move in your business, but you're constantly seeing "pay $5000 for this" or pay "$10,000 for that".
It's nice to find people who genuinely want to help, who have no intent to manipulate, who allow me (as the consumer) to learn and don't force products, services, and calls to action all the time.  I've told you before that when I separated the military, my transition was rough.  I was FLAT BROKE at times, but I still had a burning desire to start a business.
I wrote my article How To Start a Business with $100 or Less from experience.  I know how it can be to have a business idea, but feel like you don't have the cash to get the ball rolling.  That's why I created that article, but I've also been forced to pass up courses that were thousands of dollars because the fees were not attainable.
In some cases, I'm glad the funds weren't available for me because I may have spent them and been very disappointed in hindsight.  I've seen people buy courses where the prices were very inflated only to learn things that I've been able to learn for free or a fraction of the cost, which is why I am writing this article "Best Free Online Business Classes".
The Free Version vs. The Paid Version
Some of these courses offer a fremium model where you get to see a certain amount of content for free, then you have to upgrade for the remainder.  I've included these in this listing because I believe whether you decide to stay free or upgrade, you'll still get great value by taking the courses.
Often times, I've personally upgraded, but I can acknowledge that even the free versions are amazing in comparison to anything I've found online.  Be wise about this.  Upgrade when it's good timing for your situation.  I took two serious leaps of faith with one of these courses where I used money for my essential bills, and paid for the course instead because I was so confident that the course could elevate my family.
Balance your gut feeling of faith with your impulsive, selfish, irresponsible feelings.  In my case, I was able to get high ROIs from the course I'll mention, and I plan to continue getting returns from it going forward.  I'll have to save the information about that one for last…Without further ado, let's get rolling…
Youtube (especially these channels)
Youtube has some very amazing statistics.  Of their statistics, it shows, 300 hours of video are uploaded to Youtube per minute!  This is a HUGE amount of new content.
Many businesses are noticing that adding Youtube into their marketing strategies will increase their reach, and the competition to grow audiences and increase value is growing, so more free information is becoming available on Youtube.
Years back, I'd be on Youtube looking for a video on business and find very few, but now, there are video channels for legal advice, for accounting processes, help with internet marketing and so many other videos that can enrich your perspectives on business.
The challenge with a large platform like Youtube is finding the diamond in the rough.  Since adding video is so simple and accessible, it can be time consuming to sort thru to find good content.  Also, Youtube is increasing the amount of advertising they're allowing and some ads are like 30 minutes!  Youtube is trying to push more people into their paid version Youtube Red which is still a great value in comparison to old school cable networks.  Either way, Youtube is still a very viable free option for learning about business online.
Here are a few business channels that I recommend for entrepreneurs:
The Pursuit – Interviews of Successful Entrepreneurs and their Strategies
Marie Forleo – Business Coaching Videos from a Phenomenal Entrepreneur
Lewis Howes – A Mix of Interviews with Successful People and Entrepreneurial Prompts
Miles Beckler – Internet Marketing and Entrepreneurship Advice
All Up In Yo Business – Legal Advice
Udemy Best Free Online Business Courses
While Udemy is mostly a paid platform, they have courses ranging from free and up.  I've found some great gems on Udemy for free.  One thing I really like about getting a free course on Udemy is:
1. The courses are in video
2. Some of the courses use very high quality video editting
3. Most of the instructors are very achieved in their niches, so you're not learning from newbies
4. Once you checkout with your free course, it's added to your dashboard and you have lifetime access to the course with updates!
5. Unlike Youtube, you checkout with the free course and see $0.00 throughout the checkout process, you get a receipt, and you own the course!  Youtube curates content, and you never own the content.  With Udemy, you own a single license to the course for individual consumption.
THIS IS HUGE! 
Sometimes, course creators try to leverage the power of freebies to attract new students, and you can be a recipient of that.  In addition to the free course offerings, I have pages and pages of paid courses I've bought from Udemy because it's a valuable professional development resource for me.
Some of the free courses talk about:
Web Development
Dropshipping
Freelancing
Email Marketing
Digital Marketing
Web Design
Photography
and, so many other very lucrative skills!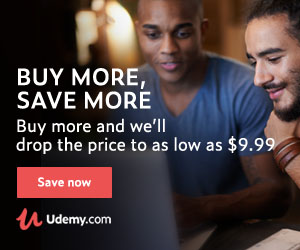 I personally love the format of a thorough course over Youtube videos because the Udemy courses seem to sequentially tell processes that are easier for me to apply.  However, I've also found some great motivation and Youtube course creators also.
The freebies vary, so it would be difficult to give you a comprehensive list of the freebies on Udemy without making continual upates.  Some course creators have forever free courses, but don't exactly post "forever free", so I don't want to dissappoint you by sending you to a course then you find out it's a paid course.  Stop by Udemy and check out what free courses could add value to your business.
Skillshare is another great professional development platform.  They offer the freemium business model rather than the free lifetime access course model of Udemy.  Even with that, they give you access to thousands of courses that can improve your business skills FREE for 30 days!
After 30 days, their pricing goes up very modestly to either $15.00/month or $8.25/month (when paid as one lumpsome annually).  Membership gives you discounts like:
a free 6-month license for prototyping with Envision
20% off any Shutterstock Stock Photo Plan
15% off Adobe Creative Cloud
10% off your first Squarespace purchase
40% off Freedom (to block online distractions
20% off your first purchase as Creative Market (an Upwork and Fiverr alternative)
and more discounts
There's definitely a high ROI on Skillshare membership! Like Udemy, they also have some very highly achieved instructors who teach on a plethora of things.  Some of the Entrepreneurship classes include:
Growth Marketing Essentials: Building Effective Funnels
Passive Income: A Beginner's Guide
The Staples of Branding: Building a Company from Purpose to Product
The Art of the Start: Growing Ideas into High-Growth Businesses
and many many more!
Their class topics range and entrepreneurs would probably find Skillshare to be a goldmine because it's classes, but they also give you tasks to complete along the way, and the "Skillshare" concept is to share your completed project with others to add a community feel too.  I think the free month is one of the best free online business opportunities because within that month, you have access to thousands of classes, and you can unsubscribe at any time if you want!
Podcasts as Free Online Business Courses
I also love to learn on the go.  It's not always easy to watch a video course while you're at the gym working out or driving in your car, but who says you can't still do professional development on the go?
You can definitely do professional development on the go with the power of podcasting!  There are podcasts on so many topics on Itunes and Stitcher.  The topics range from spiritual enrichment to entrepreneurship, and everything in between.  There are some amazing podcasts on Entrepreneurship there.  Some of them include:
Podcasts can be listened to absolutely free, however, many podcasters make their incomes thru sponsored ads you'll hear, affiliate marketing, or by selling products they may mention in episodes along the way.
Score.org Free Online Business Courses
Score.org is a network of volunteer business experts you can go to for one-on-one business mentoring, live local business seminars, and webinars, and mostly everything they offer is FREE!  I've had several business mentoring sessions with Score mentors to get feedback from entrepreneur to entrepreneur.
I've taken many of their recorded webinars to learn things from business appointment setting to business finance.  In fact, when I was in my Master's of Business Administration Program, I felt so much information was not "clicking" with me, I relied heavily on Udemy and Score to expand my knowledge base, so I could pass my classes.
The Score recorded webinars are attached to many of their posts in their full library, and they range in topics to include:
How To Hire Marketing Support
Taking Your Business Online
Employee Benefits
Incorporating Your Business
and a plethora of other resources
In addition to the free courses, Score can also pair you with a volunteer business mentor.  From my experience, my volunteer business mentor is incredibly encouraging and helps me build my confidence.  However, if you want a person who has a specific skill to mentor you, you would want to look for or hire a business consultant with specialized skills.
Amazon Prime Business Courses (Included with Prime Membership)–and, a 30 Day Free Trial
I know you may be familiar with going to Amazon for books, electronics, apparel, and other things, but the huge business behemoth also has some great business courses included for free with their Amazon Prime membership.  Many of the courses can be watched just as easy as you would an instantly downloaded movie, and offer lots of valuable information.  I've taken free and paid courses from Amazon, and I love watching entrepreneurship programs like Shark Tank and The Profit!  While some of the entrepreneurship programs are not "courses" per se, the information shared can be very educational for your entrepreneurship journey.
A new member benefit for Amazon Prime is their 30 day FREE trial!  During the 30 days, you can buy whatever you want with the most popular shipping plan: Amazon's 2-day Free Shipping.  Added onto buying your other purchases with the Amazon's two-day free shipping, you can also have unlimited access to all of their entrepreneurship Prime instant downloads.
Audible Free Trial and Two Free Audiobooks
I love my audiobooks.  Added onto all of the other methods of acquiring personal development knowledge, I also listen to audiobooks for specified and thorough knowledge.  The one I'm listening to now is Rise and Grind by Daymond Johnfrom Shark Tank.
Audible has a 30-day Free trial that is not as generous as some of the other freebies I've mentioned, but it's still a free deal, so I've included it.  You have to be careful with this one because if you don't cancel before the 30 days, you will automatically be billed $14.95.  I'm a longstanding customer of Audible.  I count it as a Professional Development expense for my business (because it is) because it helps me get out of ruts, acquire new ideas, and grow my business.
Wealthy Affiliate: My #1 Recommendation for Internet Marketing Training – and – Lifetime Free Membership Plan!
My business really took off in affiliate income after 25 January when I signed up for Wealthy Affiliate.  At the time, my freelance business looked like it was about to collapse.  My kids were having serious health issues, and I felt compelled to make them my first priority.
My responsibilities in the freelance world were very time sensitive.  The company who brought in my primary freelance income could not stand without my position filled.  I had a gut feeling that the 8-weeks I needed (which was completely unplanned) to take care of my kids would cause my freelance clients to be lost, AND IT DID.
I learned a hard lesson from a hard hit, and it was to make multiple streams of income: passive and active.  I write all about that here on my article How To Make Multiple Streams of Income for Your Business.  I had multiple streams of income at that time, but my passive income (royalties from my books) was not sufficient to cover my living expenses, and though I had more than one client, they required my active time investment or the contracts would collapse.
I had been doing internet marketing for 3 years, but I was still having challenges I could not understand.  I signed up for the free membership at Wealthy Affiliate and was blown away with the value that's given away for free.  Although my husband and I were in a tough spot financially (having just lost a large part of our income), we felt the investment would return to us, so we agreed to upgrade to the Premium $49/month plan.
I decided to switch from my old hosting company (Bluehost) and host my websites with Wealthy Affiliate.  I attend ongoing professional development on traffic generation every Friday, and I use their keyword research tool which is causing my traffic to increase and my readership to go up!
Plus, I've made nearly $300 from affiliate marketing commissions since starting this brand new website on 1 February, and it can only go up from here!
The community support at Wealthy Affiliate is phenomenal, the training is amazing, and the tools will help you to grow traffic and followers on your internet platforms.  They offer the option of a forever free account that offers alot of value: two free websites, access to the keyword research tool, community support, and great training.  I recommend them as one of the best free online business courses for companies who want to use the internet for their marketing strategy because of the growing importance of internet marketing.
My How To Start Your Business in 10 Simple Steps E-Course!
Not to toot my own horn, but I truly believe in the How To Start Your Business in 10 Simple Steps e-course I've created here.  It's free, but of you take the time, do the reading, and apply the prompts, you can start a business and begin making money right away.  I'm living proof.
I walk you thru each step of the way.  We use resources and I recommend purchases, but the guidance, direction, and interaction is absolutely free of charge.  I think I've created one of the best free online business classes, and I'm willing to chane it for the better of my readers.
Final Words on the Best Free Online Business Classes
This is ALOT of free resources and collectively can take you years to digest all of the information.  I have paid courses I recommend that I'll be writing about sometime in the future, however, if you're interested now, you can visit my recommendations page.  Those are most of the courses I currently endorse and recommend to the vast majority of the entrepreneurship audience.
The goal of this article was to show the best free online courses. If you have questions or concerns about this, don't hesistate to leave them in the comments section.  I'd love to help you out!
If you'd like to diversify your business income online, that's an area where I have lots of expertise and a great community.  I'd love to invite you to join me at Wealthy Affiliate where I can walk alongside you thru your training program that will teach you how to diversify online.  You'll learn affiliate marketing, advertising, content curation, search engine ranking, and so so so much more.
Finally, if you'd like customized advice on your business, I offer business consulting services.  You can schedule a consultation HERE, and I'd be glad to meet you and interact.
Now, it's Your Turn…
Have you taken free courses online?  What would you consider to be the best free online business classes?  Leave your responses in the comments section below.