If you're looking for a thorough Briefcase by AppSumo review, you're in the right place. Here, I'll be reviewing the briefcase by Appsumo and sharing pros, cons, and what others are saying, so you can decide if this is a good option to get software tools for your business.
So, the scenario goes…
You decide to start a business. You're trying to deliver the best possible products and services, so you swamp yourself daily with research. Before you know it, you're finding something new that you don't know or you "need" almost every day! You're juggling so many hats (payroll, clients, time management, cashflow, productivity, etc.) that you realize it's nearly impossible to keep everything in your head, so you begin exploring solutions for:
Remembering your appointments
Posting on social media
Invoicing and collecting payments
Paying people
Designing marketing materials
Monitoring cashflow
Creating and signing contracts
Managing projects
Following up with sales prospects
and the list goes on and on
Then, you realize, there's software for everything! But, if you tried to buy it all, your startup budget would go soaring up. What do you do?
If you're here, it's likely you're an entrepreneur that can relate to that scenario. You know what it's like to juggle many things. You also know how easily you can fall into the "shiny object syndrome trap" while trying to improve and systemize your operations. Briefcase by AppSumo suggests they have a solution to help startup entrepreneurs get the software they need to run their businesses without dozens of separate subscription fees, but is it too good to be true?
I'm excited to review Briefcase by AppSumo for you. My goal for this review is to help you make the best decision for your business, so I'll be presenting the facts to you (good, bad, and ugly–if it exists).
In this Briefcase by AppSumo review, I will give you:
What it is
How it works
Pros and Cons
What it does well and what it does not
What others are saying (good and bad)
My Recommendation
And, Alternatives (in case you want to do some comparison shopping)
To check out this full review in video, check it out here:
If you decide at any point you want to skip the remainder of the review and TRY BRIEFCASEHQ OUT FOR YOURSELF, you can CLICK HERE TO CREATE YOUR ACCOUNT.
What is Briefcase by AppSumo? An Overview
AppSumo is a technology company started in 2010 by Noah Kagan. Since inception, they've gained notoriety as a way for business owners to access software products and services they need, and they've been a launchpad for many great technology and SaaS companies. They've become like the Groupon of online software products and services with their "Deal of the Day" offers. As a result, they gained quite a bit of popularity.
While AppSumo launched some great gems, they also publicized duds that lost people alot of money, so they've established a mixed reputation that I think they're trying to redeem.  Recently, they launched Briefcase by AppSumo.
With the Appsumo Daily Deals, they'd notify everyone on their mailing list of low price deals, and you'd buy them individually for a lower than retail price. Now, with the Briefcase, you'd sign up for a quarterly subscription that would give you access to dozens of tools and they'll keep adding to it for one subscription price.  The goal with the briefcase is to offer startup entrepreneurs access to a suite of tools, so they'll have everything they need to run their businesses for one low subscription price.
How Does Briefcase by AppSumo ?
The briefcase is supposed to serve as a win for AppSumo, a win for the consumer, and a win for the product creator! Many of the software companies publicized by AppSumo aren't yet mainstream companies. They have great products and services, but they need more visibility to get their products out to a mainstream audience.
They negotiate a deal with AppSumo to give a limited number of product licenses in exchange for visibility to their audience. AppSumo adds these software products into the briefcase, so subscribers can access the licenses on a first come-first-serve basis.
Inside of the briefcase, you'll find tools for:
Accounting
Graphic design
Social media management
Search engine optimization
Advertising
Hiring
Customer Insights
Productivity
Learning
Lead generation
Sales
Finance
and Advertising
AppSumo is constantly adding new tools into the briefcase, so subscribers can try new software products when they're "hot off the press". Some of the hot offers in the past included:
Video editting software
Webinar software
Proposal Writing software
and more…
How Do I Get Started with Briefcase by AppSumo ?
To get started with the Briefcase by AppSumo, you would:
1. Create your Account
To create your account, you have to process your name, email, and billing information.
2. Scroll thru the Products in the Briefcase
Once you've paid, you'll instantly have access to dozens of software. You can scroll thru to decide which products are best for you.
3. Activate your product licenses
When you choose a product, you click "Activate" and you'll be given a product license to activate it.
4. Begin Use
Then, you'll be able to begin using the product. The products that you activate, you'll have a lifetime access to for as long as you're a Briefcase member. Some of the licenses will extend even beyond your membership!
Who is Briefcase by AppSumo For?
Those who are looking to cut down on business expenses and subscriptions
Those who need several tools for business operations, and don't currently have them
Those who want to try new tools to experiment with features they don't currently have
Those who want to support up and coming product creators
Briefcase by AppSumo Tools & Training
Briefcase had tutorials to show you how to activate product licenses. The tools they have are sufficient to instruct most people how to use the briefcase.
BriefcaseHQ Support
They offer a money-back guarantee, and customers who have requested refunds suggest that they honor their guarantee without hassle. They also offer phone and email support.
What Does Briefcase by AppSumo Do Well
They compile a suite of software to help in many key areas of business
They curate new business tools
They give access to alot of tools for an affordable price
They write very good ad copy, so you have to be careful not to waste time on activating products you don't actually need
The briefcase helps you mitigate the risk of spending too much money on an AppSumo product that's a flop. Instead, you can subscribe for several great products try others with your AppSumo credits.
What Doesn't Briefcase by AppSumo Do Well
Appsumo customer reviews suggest they don't always screen product creators well enough to weed out those who may go out of business soon, however, this doesn't necessarily apply to the briefcase
Briefcase by AppSumo Review Roundup
Here are some reviews I've found on Briefcase by AppSumo or AppSumo in general…
Briefcase by AppSumo Video Reviews
The Founder – Noah Kagan's review and walkthru:
Video review 2:
As you can see, AppSumo is a great platform to find software gems at unbeatable prices, and you can get them inside of your briefcase!
Common Positive Feedback
Alot of great products
Unheard of prices
Always something new
Over $1000/mo worth of products for $49/mo
Common Negative Feedback
May not use all of the tools
You might waste time experimenting with tools you don't really need
The review process is very stringent if you want your products in the briefcase
Most Helpful Positive Briefcase by AppSumo Review
Sally at WeRockYourWeb.com said, "AppSumo is an excellent go-to for small businesses needing to cut costs wherever they can. They offer some of the best deals you'll find on select products and courses. Combine these tools with organic search strategies to build your website traffic base."
Sandeep at 99Signals said:

"If you were to subscribe to each of these tools, majority of which follow a subscription-based model, you'd easily be paying over thousand dollars a month.
In the end, it's all about saving cost and getting the maximum efficiency out of some of the best business tools available in the market.
Even if you were to use just 10 of these tools (like I do) in a given month, you'd still be saving up a considerable amount of money."
Most Helpful Negative BriefcaseHQ Review
Adam from WPCrafter mentioned that some of the products AppSumo has launched have been complete duds, however, with the briefcase, you'd be spending money on several products instead of just one.
Briefcase by AppSumo Price
Briefcase by Appsumo is $147 paid quarterly. This screen gives you a breakdown on what's included with the deal:

4 AppSumo Lifetime Credits
Your briefcase tools
and, 10% off AppSumo purchases
My Final Opinion of Briefcase by AppSumo
Overall, Briefcase by AppSumo is an unbeatable deal in my opinion. I was paying for many of the tools in the briefcase individually until I learned about this! Paying individually or subscribing for a comparable solution costs $20-$50 per month individually, so it's nice to pay one subscription of $50/mo and check all of the boxes. I recommend entrepreneurs try Briefcase out, and cancel if it's not a good fit for you. I don't think you could go wrong. GET STARTED WITH BRIEFCASE BY APPSUMO HERE.
Top Alternatives
Accounting Software
FreshBooks – FreshBooks is an accounting software alternative that will help you track your income and expenses, perform time tracking, and maintain compliance with financial regulations. Check out my full FreshBooks review here.
Social Media Automation Software
eClincher – eClincher is a leader in terms of features in the social media automation tools. They help you to manage several social media accounts efficiently. Check out my full eClincher review and demo here.
Wealthy Affiliate – Collection of Internet Marketing Tools: Hosting, Keyword Research Tools, Thousands of hours of training, and Live Internet Marketing Trainings. Check out my full Wealthy Affiliate review here or create a free account to test drive it out here. Get started free here.
VERDICT: Recommend
---
Is this Deal Worth it to You?
I'd love to hear your thoughts. Is this deal worth it to you? Leave your comments, questions, and feedback below.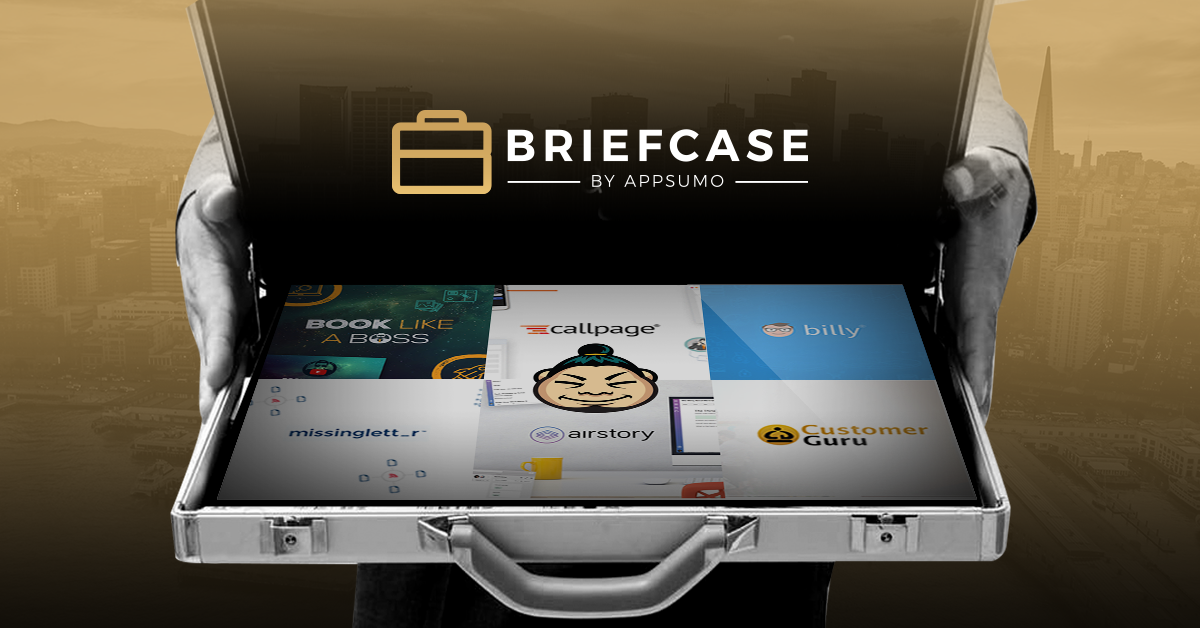 Pros
Great software
Affordable price (sometimes 90%+ off normal pricing!)
Full suite of products to help business operations
Great money-back guarantee
No commitment or contract--Leave whenever you want
Cons
You may not need all of the tools
You can easily get pulled into shiny object syndrome by having access to so many tools