If you're looking for a thorough e-Clincher review, you're in the right place. Here, you'll get pros, cons, and alternatives to help you decide if eClincher is a good social media management solution for you.
For business owners who want to get business from the internet, there are several methods of doing so: search engine optimization, paid ads, and social media to name a few. Over the last decade or so, social media has grown to be a major component of most marketing plans. Studies show many people who are able to make buying decisions spend quite a bit of their time on social media networks, so it makes it an important place for businesses to present their solutions.
Optimally, over time, you'd start to build streams of traffic from each of the various social media channels, but if you try to do it manually, it can be very time consuming, and for many people, it'd be absolutely impossible! Think about it, not only would you need to create content on your website, but with the many social media channels, you would also need to create content for each channel (due to the size variations), test to see what's working, and engage. Unfortunately, if you try to engage on each platform without automation tools, it might just dominate your whole life–that's why it's important to look at alternatives like eClincher.
If you're here, you're probably wondering whether eClincher is worth your time or if it's just hype on their sales page or in other reviews. In this eClincher review, I will give you:
What it is
How it works
Pros and Cons
What it does well and what it does not
What others are saying (good and bad)
My Recommendation
And, Alternatives (in case you want to do some comparison shopping)
To view this full review in video, check it out here:
What is eClincher? An Overview
eClincher is a social media management and automation tool. It was created by Gilad Salamander in 2010 to offer a better social media management solution than what was out. He saw that businesses who want to engage on social media were spending 10 hours or more per week to do so, when their time could be spent on social media more efficiently if there was a good software solution. As a result, he created eClincher, to squeeze or "clinch" maximum results out of social media, and has since continued to improve it to better suit the needs of his customers.
eClincher can be used to manage:
Facebook
Twitter
Pinterest
Instagram
LinkedIn
Google my Business
Yelp
Youtube
and, RSS
Users can manage all of their compatible social media platforms without logging off and logging onto each one individually. Instead, they'd log onto eClincher where they can manage their inbox, automate posts, track hashtags, monitor brand mentions, respond to comments, and more.
Here's a news interview where the founder of eClincher shares his goals for creating and growing the platform:
How Does eClincher Work?
Let's imagine you have more than one social media account, and you know your target audience is highly engaged on each one. You know that social media algorithms measure account activity and the engagement of others with your posts, so you decide to post engaging content regularly.
You decide to post 3-5 times per day on each of your social media platforms during your audience's peak times: 0900 AM, 1100 AM, and 7PM. You follow thru with your goal, and begin logging onto Facebook at 9, opening another tab and logging onto Twitter, opening another tab and logging onto Instagram, and continue with each social media platform. You have all of your posts saved onto a Google doc, so you simply copy and paste onto each platform and publish.
Can you see how one round of social media publishing could take 30 minutes to an hour? This doesn't count responding to comments, answering inbox messages, tracking brand mentioned, or anything else! Logging onto each social media account is quite time-consuming especially when you want to post consistently more than once per day, which is why it's nice to have one interface that can streamline social media management. Some features that makes eClincher a more efficient option than manual publishing to social media are:
Auto Publishing and Scheduling
With eClincher, you can schedule posts to your social media profile to go out at the times you want (or the times your audience is most active).
With the queues feature, you can load each social profile with content that will publish over a span of time. You can also recycle old content automatically by enabling this feature within eClincher.
It doesn't help to solely publish interesting material. It's also important to respond to comments and messages, and build a relationship with those who are engaging with you. eClincher enables you to engage with users of different social media platforms from one interface.
When social media users send you messages to your profile inbox, rather than logging onto to check and respond, you can simply respond to them thru eClincher.
It really helps to base your marketing strategy around successful results, but, how do you measure results without some form of analytics? eClincher offers detailed analytics to help you evaluate the results of your social media efforts, and to help you decide how to continue your social media strategy as a result.
Graphic design is almost mandatory for social media. Unfortunately, many social media automation tools don't cater to that. Instead, they require that you design your posts in one platform, then upload them into the social media tool which is incredible inefficient. With eClincher, it's integrated with Canva, so you can design your social media posts and schedule them in one platform.
The integration with pocket enables eClincher users to browse the internet, save interesting articles and images for curation, and to schedule them in eClincher.
Social media curation (coming soon)
The CEO mentioned in his interview that the eClincher team will be working to make the process of curating content from across the web onto social media even easier in ongoing updates, so the platform is going to continue building more robust options!
How Do I Get Started with eClincher?
To get started with eClincher, you'd:
1. Visit the website
First, you'd VISIT THE ECLINCHER WEBSITE HERE.
2. Create your free trial account
eClincher generously offers a 14-day free trial (without asking for billing info) where you'd be able to play around with the features to see how you'd use them in your business.
3. Test out the platform and features
During the 14 days, you can schedule posts to your profile, respond to inbox messages, track brand mentions, evaluate the analytics, and more to decide if eClincher is a good fit for you.
5. Upgrade to a premium account when the trial is over and continue use
Once the trial is over, you won't be able to continue using the features, but if you noticed the time savings and cost savings of eClincher, then you can UPGRADE TO AN ECLINCHER SUBSCRIPTION.
Who is eClincher For?
Businesses who want to pursue social media management
Those who want to be efficient with social media management
Agencies who manage social media for clients
Those would would appreciate auto posting to social media rather than manual posting
Those who would like to design their social media graphics, post their content, store their ideas, and respond to their audience from one place
eClincher Tools & Training
eClincher offers tutorials to help you to use their social media tool. They also offer articles to help others with social media.
eClincher Support
eClincher offers live chat support only.
What Does eClincher Do Well
They maintain a social media tool that saves businesses alot of time
They've priced their tool competitively with tools that have less features
They're receptive to their customers, so they feel involved with the improvement of eClincher
They give good support to their users
They're constantly updating the tool
It lets you see a preview of how the content will look on your profile before it goes there
What Doesn't eClincher Do Well
They don't offer phone or email support
They don't enable Pinterest marketers to engage (as much as Tailwind does in the Tribes)
eClincher Review Roundup
Here's a roundup of reviews I've found on eClincher from all over the internet. I've compiled them so you can have realistic expectations of the strengths and weaknesses of the tool, and evaluate accurately whether it's a good fit for you.
Go2Crowd Reviews
Out of 146 reviews on Go2Crowd, eClincher received an average of 4.9 stars.
Video Reviews
Common Positive Feedback
Saves me so much time!
The most complete social media management platform out
Great customer support
They've helped me master social media much more effectively
Was using Hootsuite, but still found I was jumping around chaotically until eClincher
Negative Feedback
Negative feedback for eClincher was uncommon, so these are constructive comments from customers on what they would like to see improve.
They have bugs from time to time, but they're quick to fix them once they're notified
Not the prettiest user interface
Predictive scheduling could be better (best time to post function)
For those working outside of American, the searches and feeds may be more delayed
Most Helpful Positive eClincher Review
"The Right Social Media Tool for all My Needs"
What do you like best?
I run a social media marketing business, and I need to access all my client accounts in one dashboard. eClincher does just that. Plus individual clients are separated, with all their social media channels grouped under client name. What I love the most though is eClincher's social inbox, here I receive instantaneous responses for all my client accounts, enabling me to respond accordingly, and prevent bad pr disasters. Previously I used Buffer, but found eClincher more affordable, and their tech support on -point. Literally got answers to any of my questions in minutes.
What do you dislike?
Nothing really, just looking forward to what they add-on next, maybe a library of ready-made content?
Recommendations to others considering the product
Try it out, they have a two-week free trial.
What business problems are you solving with the product? What benefits have you realized?
Managing all my client social media channels (40+) under one roof. eClincher saves me time, saves me $$$, and enables me to spend more time pursuing new clientele rather than focus solely on existing business.
Bill N., G2Crowd Reviewer
Most Helpful Negative eClincher Review
"Fast and Easy to use"
What do you like best?
It doesn't take a lot of time to schedule things, you can reuse posts and re-edit them easily and there's an option to post across multiple platforms. Their service when it comes to issues with the program is also very helpful
What do you dislike?
There is no direct to instagram option and there's the occassional bug where I won't be able to access the program for a day especially on the mobile app.
Recommendations to others considering the product
Use the calendar feature to keep track and avoid double posts. Definitely explore the gif and stock photo options as well!
What business problems are you solving with the product? What benefits have you realized?
Keeping track of several social media platforms and keeping your followers updated with relevant content without spending hours on this.
Jessica D., G2Crowd Reviewer

eClincher Price
eClincher has three packages, and the pricing breaks down like this:
My Final Opinion of eClincher
Overall, eClincher is a great social media management tool. I can see how it saves time in comparison to competitors. I've used many of the competitors' solutions. Some focus on one social media platform, and others that offer similar social media platform integrations offer less features. If you want to efficiently manage your social media platforms, I highly recommend you to SIGN UP FOR THE 14-DAY FREE TRIAL, and try it out for yourself!
Top Alternatives
Kicksta – An Instagram automation tool. CHECK OUT KICKSTA HERE.
Tailwind – A Pinterest and Instagram automation tool. Tailwind enables more collaboration with Pinterest influencers thru the tribes, so it still has a competitive advantage for Pinterest marketers. CHECK OUT TAILWIND or read my full Tailwind Review.
Hoostsuite – The most relevant alternative to eClincher. They offer automatic scheduling of posts, inbox integration, and so on, but there's less features and the pricing structure makes it more expensive for the comparable features. CHECK OUT HOOTSUITE HERE.
VERDICT: Recommend
——————————————————-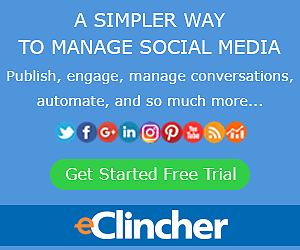 eClincher | Social Media Management Tool
Pros
Helps automate social media marketing
Integrates with Facebook, Yelp, Google my Business, Twitter, LinkedIn, Instagram, Pinterest, Canva, Pocket, and more!
146 customers rated eClincher an average rating of 4.9 stars
Customers suggest they have very good support
They're receptive to feedback and continuously making updates
Cons
No phone or email support--live chat only
Not as much collaboration options for Pinterest marketing (in comparison to Tailwind tribes)
Does have bugs here and there but they're fixed quickly