If you're looking for a thorough Genesis Framework and StudioPress Review, you're in the right place.
When you're browsing and looking for a new WordPress theme, it's likely you're experiencing some of these common problems:
You're new to building websites and you want to start off right
You may already have a website and it may be moving slow
The theme you have may be difficult to operate
You might want something that integrates with functions you want
You might want something that looks nice (or better than what you have)
You might have aesthetic tweaks you want to make and aren't able to do them with the tools you currently have
or, you might just be sick of the glitches and bugs in other themes
Does that sound about right? 
Unfortunately, finding a theme that solves the problems you're having may not be that simple. There are so many to choose from and all of them say  they're good at something. It can be confusing, I know–that's why I'm writing this StudioPress review to help you decide if the Studiopress WordPress themes could work for you.
In this Studiopress review, I'll tell you:
What they are
How they work
Pros and Cons
What they do well and what they don't
What others are saying (good and bad)
My Recommendation
And, Alternatives (in case you want to do some comparison shopping)
If you decide at any point you want to skip the remainder of the review and TRY STUDIOPRESS OUT FOR YOURSELF, you can CLICK HERE TO SHOP AT STUDIOPRESS.
What is StudioPress? An Overview
The beginning of Studiopress was simple and humble. As said by Brian Gardner, the founder:
Eleven years ago, I left my job as a project manager at an architectural firm to pursue a career in freelance web design and internet shenanigans.
He didn't know much about the career path he was pursuing accept that he was earning six figures per year, but he definitely didn't know Studiopress would develop into the massive business it's become.  A few years after he started StudioPress he co-founded CopyBlogger Media LLC. (now called Rainmaker Digital) with a few notable partners including…
Brian Clark, founder of Copyblogger
Sonia Simone, CopyBlogger CCO
Sean Jackson, creator of Scribe SEO
Tony Clark, co-creator of Teaching Sell, Third Tribe, and a thrid blog called Premise
Chris Brogan
and Darren Rowse of Problogger
They bootstrapped the business and drove it to become a very successful business, but they felt they hit a glass ceiling where they needed more financial resources to expand StudioPress and the Genesis framework, and after negotiation, they found the opportunity thru as a recent acquisition by WPEngine. Today, Brian works with the team at WP Engine to continue growing Studiopress, improving the Genesis framework, and building the development community.
They're most known for creating the Genesis framework which is an installation of code that enables sites to be built optimized for search engines, optimized for optimal loading speed, mobile responsive, and customizable with the installation of a child theme.  Many notable marketing experts use the Genesis framework. In fact, 500,000+ sites are running on the Genesis framework!
In addition to the Genesis framework, Studiopress also offers:
Child themes that govern your site design
and WordPress hosting (thru a partnership with WPEngine)
Popular WordPress Themes StudioPress Offers
Mai Law Pro
This theme was built with law offices and legal professionals in mind. The layout of the child theme makes it easy to customize it with the information a legal professional would need to get clients. TAKE A LOOK AT THE LIVE DEMO HERE.
BreakThrough Pro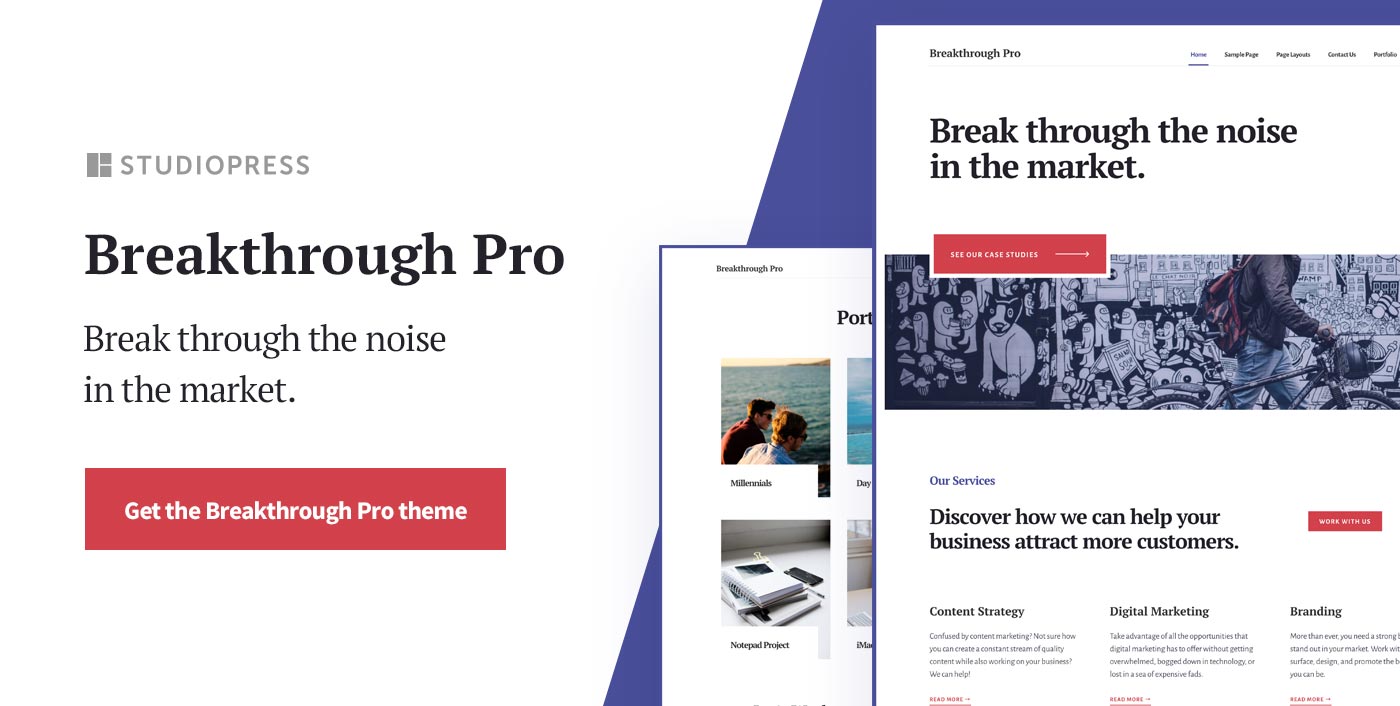 Breakthrough pro was built for marketing agencies and marketing professionals. Studiopress knows many marketing companies need to display similar data to their customers (custom to their agency), so they've built Breakthrough Pro to make that easy. There's customizable layouts for your services, a portfolio, and more. TAKE A LOOK AT THE LIVE DEMO HERE.
Niche Pro
Niche Pro is a third-party theme that's distributed by Studiopress, but was developed by Design by Bloom. The theme is designed for bloggers who want to leave from hobbyist and become professional. The theme is ideal for multiple niches because it is fairly neutral and customizable. TAKE A LOOK AT NICHE PRO LIVE DEMO HERE.
Essence Pro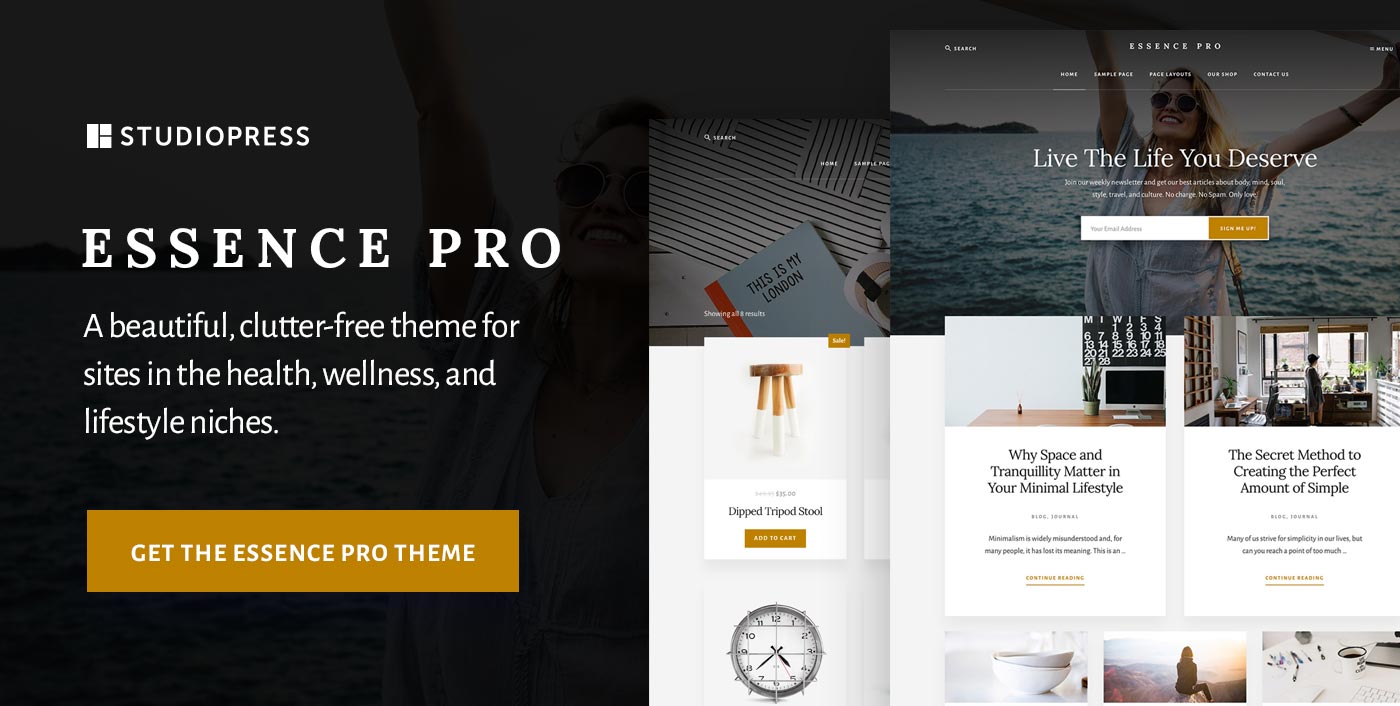 Essence Pro is designed to be simple, and without alot of visual distractions. It's made specifically for the health, wellness, and lifestyle niches, but can work for others. VIEW THE LIVE DEMO HERE.
Academy Pro
Academy Pro is a theme built for course creators and those who want to run a membership site. It is customizable to help course creators showcase their credibility, and display why others should buy courses from them.
Other Themes by StudioPress Include:
Lifestyle Pro
Authority Pro
Executive Pro
Corporate Pro
Magazine Pro
and others…
SEE ALL OF THE STUDIOPRESS THEMES HERE.
Customizing the Genesis Framework
Since there are so many agencies and individuals who find the coding of the Genesis framework to improve the performance of their WordPress website, many people add the framework to their sites and create or customize the child theme. You can CHECK OUT SAMPLES OF SITES CUSTOMIZED FROM THE GENESIS FRAMEWORK.
How Does StudioPress Work?
After you've set up your WordPress website, you'll need to install a theme. If you use my #1 recommended hosting company, setting up the website takes less than one minute and included with the setup, you'll get a free theme. Most people buy a premium theme from Studiopress because they want to optimize their sites for speed or better functionality. As a result, they would switch from a free theme to a Studiopress by purchasing a license for use. Once you have a license to use the Studiopress theme on your website, you can upload it and begin customizing your website.
How Do I Get Started with StudioPress?
To get started with StudioPress, you'd first:
1. Set up your WordPress website.
Every hosting company has a different way of setting up a website: some are more complicated than others. If you're searching for a hosting company, I've written an article with best practices for how to choose a hosting company. It has a list of my top recommended website hosts. For my #1 top recommended hosting company, setting up a website is the simplest. In fact, you can set up a website in less than 5 minutes by following this tutorial here!
2. Purchase the Studiopress theme you like
After your website is set up, then it's time to install your theme, so you can make your website look how you want. The theme is what enables you to customize your site. Studiopress has more than 35 themes to choose from and you can pick any one.
3. Logon to your WordPress website
Once you've selected and paid for your theme, you would have a ZIP file. You take the ZIP file, and log onto your WordPress website.
4. Upload the premium theme
From the dashboard, you'll upload the Genesis Framework and your child theme by going to "Appearance", then "Themes", then "Upload Theme". The dashboard will look something like this:
Here's a video that shows you how to install a StudioPress Theme:
Who is StudioPress For?
StudioPress is for:
Agency owners who want themes to make their web design or SEO business more turnkey
Those who want a website that's optimized for SEO, mobile responsive and loads fast
Those who know some coding and want to customize the Genesis framework for themselves or for clients
Lawyers, online course creators, lifestyle bloggers, authorities or celebrities, food bloggers, food businesses, fashion businesses, and others that Studiopress has designed their themes to cater to
and, those who want simple but professional website designs
StudioPress Tools & Training
StudioPress doesn't offer many training options. When you purchase a theme, you'll also recieve instruction guides that walk you thru the installation of the theme. While it's simple to set up a theme (epecially if you've done it before), if you're not very familiar with WordPress, you may feel the need to find videos, articles or training programs elsewhere. My #1 recommended training program will give you information on how to set up your website, how to optimize it for search engines and social media, and more. YOU CAN BEGIN INTERNET MARKETING TRAINING FOR FREE HERE.
StudioPress Support
Studiopress is well known for the support they offer customers. Their themes stand on their own and don't require alot of support, however, when you need support, they are accessible by thru MyStudioPress, a customer portal.
What Does StudioPress Do Well
StudioPress codes very high quality themes
Fast loading times
Emphasis on security
They create themes that are easy to use and aren't bogged down with lots of features
The Genesis framework helps optimize WordPress websites
Their themes are customizable (with coding knowledge)
The themes look very nice and are high quality
What Doesn't StudioPress Do Well
They aren't directly compatible with Pagebuilders without extra coding
They don't appeal to users who want front-editting capabilities
They don't have many animation features
You would need additional plugins to add functionality to your site
They are premium priced, so they're not the most affordable option
StudioPress Review Roundup
Common Positive Feedback
My sites run fastest when I use Studiopress themes
My sites are clean and user friendly
Disadvantages of Choosing StudioPress
There's not many negative reviews on the Studiopress product. Instead, there are disadvantages most people know and you should expect like:
You'll have to add a pagebuilder (like Thrive Architect, Elementor, or Beaver Builder) to customize the themes on the front-end
If you want to add tables, ratings, reviews, buttons, countdown timers or other functionality, you'll need plugins (like Elementor Pro or the Thrive products)
If you want to customize the themes, it may be a substantial learning curve or you may need to hire a developer to help you
Most Helpful Positive StudioPress Review
The WordPress themes from StudioPress are ideal for anyone who wants an extremely well-built, great-looking theme that they can easily install and have up and running on their site with as little fuss as possible.
Solid, practical and low-maintenance, these are undoubtedly some of the best themes in the business, but, unless you're a coder or are willing to pay for custom development work, for the most part, what you see is what you get!
Shane from WinningWP.com
StudioPress Price
Studiopress has many themes, however, they have three pricing options:
1. You can buy the Geneis framework for 59.95. The framework would need customization by a coder or it would need a child theme installed on top of that.
2. The Genesis framework and child theme package is $99.95 for a single site license.
3. If you plan to use the themes for more than one site, you can buy the multi-site license for $499.
My Final Opinion of StudioPress
Overall, the Studiopress themes are very high-quality. So far, I have yet to find themes that compare to the speed you can get with the Genesis framework, and I've purchased several premium themes to try.
If you want a simple theme with customization options like:
the ability to change the color palette
Lots of widget areas
Nice homepage templates
Good navigation options
and more…
You should definitely TAKE A LOOK AT STUDIOPRESS. While all of the features and bells and whistles may be nice, many other themes will show CSS errors, JQuery errors, and have other coding issues that interfere with your speed, security, and search engine optimization. SHOP THEMES AT STUDIOPRESS HERE.
Top Alternatives
Elegant Themes – Elegant themes is the creator of the Divi theme and several other very popular WordPress themes. They create themes with lots of "bells and whistles" including animation and a front-end pagebuilder. LEARN MORE AT THE ELEGANT THEMES WEBSITE.
Thrive Themes – Thrive Themes has created several themes and plugins for website conversions. They have themes, a front-end pagebuilder, and plugins that make it possible to create landing pages, optin form, pop-ups, countdown timers, quizzes, and much more. LEARN MORE AT THE THRIVE THEMES WEBSITE or read my full Thrive Themes review here.
Themify Themes – Themify has a pagebuilder and several themes many people like. I personally tried them and thought they were quite complex, however, they look very nice and have many stylish features. TAKE A LOOK AT THEMIFY FOR YOURSELF HERE or read my full Themify review here.
GeneratePress – This theme starts out free, then has premium features you can upgrade to. It's highly acclaimed by many internet marketers as being "well coded", built for speed and optimized for SEO similar to Studiopress, and it's compatible with many pagebuilders.  LEARN MORE AT THE GENERATEPRESS WEBSITE HERE.
VERDICT: Recommend
——————————————————-
Pros
SEO Optimized Themes
Mobile responsive
Great customer support
Built in security features
Optimized for speed
Cons
High price (in comparison to other theme options)
Not directly compatible with all page builders
You'd need added plugins to add features that are built into other themes